This Fall Entryway Makeover takes my front door and entry through from fall and right into Thanksgiving with natural elements and the rustic colors of autumn leaves, pumpkins and more.
This post was sponsored by Lowe's as part of an Influencer Activation for Influence Central and all opinions expressed in my post are my own.
It's time for a Fall Entryway Makeover.
Most flowers have stopped blooming right now, although there are a few fall blooming perennials and annuals that will work well.
I love decorating my front porch entry for all the holidays. See how it looks for the 4th of July here.
Fall is just full of colors and natural elements that make them the perfect choice for supplies to use for autumn decorating.
From the robust colors of fall foliage to flowering mums and on to the multitude of pumpkins, Indian corn and gourds, which seem to be everywhere, Autumn offers us the perfect assortment of items that bring life to any front entry.
I like decorating my front entry anytime of the year, but when fall rolls around, I love to totally stage my front door and nearby entry.
This year, my entry is getting a great make over thanks to a recent partnership with Lowe's Home Improvement. Lowe's has graciously provided me with products from their Fall Harvest line of decorative goods.
Shopping for my Fall Entryway Makeover
I love shopping at Lowe's Home Improvement. The store has super prices on the latest in decor trends for this time of the year.
If you want to add curb appeal and welcome your guests in a seasonal way, be sure to stop by Lowe's or visit them online to see what they have to offer for the Fall season.
As soon as I entered the store, I knew that I was in for a treat. It was like Christmas morning in October for me to be able to choose items for my fall entryway makever project.
Since I was staging my entry around my door wreath, I decided to pick up two different types to give me some variety and help me move through fall and then to Thanksgiving.
My front door has an oval glass panel in it, so a round wreath was not the perfect option for me.
Imagine my delight to find two perfect wreath choices: a grapevine wreath, and a long Autumn swag. both overflowing with autumn colors, gourds and pumpkins. Perfect!
All I needed to do was to make a few adjustments to the grape vine wreath to make it fit my door opening well.
Once I had my wreaths in hand, I wandered around the display area adding other things that would tie in with my wreaths and also showcase the whole entry.
My front door is a color called Naval blue and the bricks of my home are rust colored. The accent pieces that I chose from Lowe's will coordinate not only with my wreath but with my door and bricks as well!
Time to get started on my Fall Entryway Makeover
Since my project is based around my wreath, I started by placing the autumn swag in place, using a door hanger designed for glass. The swag fit the glass panel perfectly and gave me a focal point so that I can move on to staging with my other decor items.
An added bonus: This swag is one long length, so it will do double duty later when I move from fall to Thanksgiving! I can use it as a door surround and it will coordinate with my grape vine wreath. Win-Win!!
While I was in Lowe's, I stopped by their garden center to pick up some colorful mums. The choice was vast and the colors that I chose coordinated beautifully with my Fall decor accent pieces and wreath.
I can't wait to get started on the project!
I started by removing some liriope muscari variegata plants from two tall blue planters and adding my mums to them. The liriope got added to some pumpkin colored planters at the foot of my steps.
The colors of the mums are just amazing. They are a sort of two toned yellow and rust color that ties in perfectly with my door wreath.
Once they were planted, I decided that I wanted some extra autumn decor in them to coordinate with the rest of the vignette. This wonderful galvanized fall planter from Lowe's was perfect for this job.
It was just FULL of fun autumn decor picks. It was intended to be a fall centerpiece, but I will use parts of it for my fall entryway makeover instead.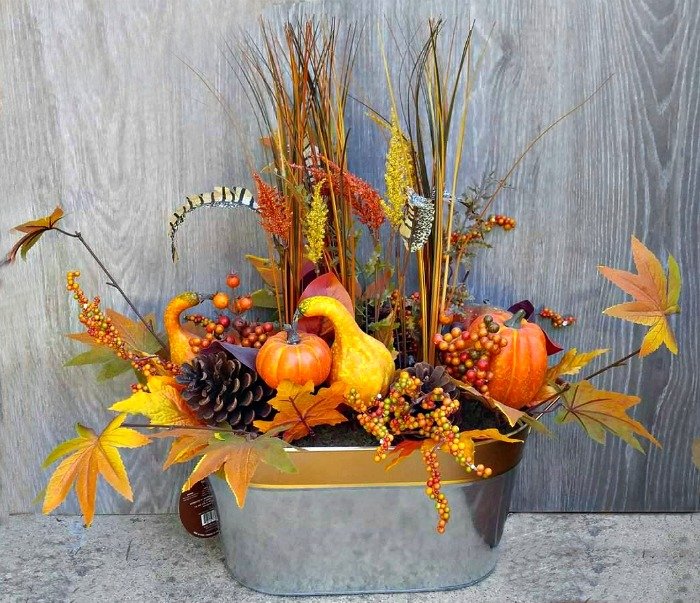 I removed the gourds and stems from the planter and used them in my two blue planters and then later in a couple of pumpkin colored planters that sit by my front steps.
The autumn picks sit just below the mums and liriope and tie in with the look of the swag wreath perfectly!
The extra leaves will also be used to hide the top of the door hanger when I hang the grape vine wreath on the door for Thanksgiving..
All that was left to do now was to stage the entry with a few more items. I love faux pumpkins in fall decor. They get more realistic looking all the time and you don't have to worry about rotting pumpkins on your front steps that happens when you carve them. – YAY!!
I used three different pumpkins for my vignette:
I like the assortment of sizes of them and they add an early Halloween look to the vignette when positioned next to a tall black candle holder that was given to me by my mother.
Also, they have no Jack O Lantern face, so they will still be perfect for later in the fall as we get closer to Thanksgiving.
All of these items go together so well and set the stage for both fall and Halloween.
I just love how the colors of the fall entryway makeover look with the colors of the bricks and front door of my entry. It is so warm and comforting to come home to!
Transitioning my entryway for Thanksgiving.
The entryway scene above is perfect for a general fall and Halloween look. But I wanted to give it a bit more seasonal Thanksgiving flair later in the season.
Luckily for me, all parts of my vignette coordinate well and transition well from one holiday to the next.
The whole scene can be altered to highlight Thanksgiving by changing out the swag and using the grapevine wreath on the door. It uses the same colors, but is a traditional wreath design.
Since the wreath is more round in shape and I have a glass panel in my door that is oval, I made a few adjustments to it.
I used some of the galvanized planter leaves that I had left over to add height to the wreath and hide the door hanger a bit. This allowed me to position the wreath further down the glass panel.
Also, grape vine wreaths are quite malleable, so I made the shape a bit more oval looking. I added a few pieces of Indian corn that are perfect for Thanksgiving on the bottom of the wreath under the pumpkins and gourds.
This gave me the extra length that I needed and it now fits perfectly on my door.
The swag that used to be on the door for the fall look now gets unfolded and is draped over the top of the door for extra fall appeal. Just a few pieces of single gauge wire and a couple of cup hooks and it was in place. How pretty!
Don't you just love to re-purpose decor items?
I really like the way that the colors of the autumn decor pics coordinate with the garden mums that I chose for my planters, and the way the leaves tie in the colors of the shorter terracotta planters, too.
The final step in my fall entryway makeover is to add a Thanksgiving door mat in front of the doorway. How easy was that?
I have a roof overhang that protects my entry from the elements, and this indoor mat gives a lovely finished look to the makeover.
With just a few changes, my Thanksgiving entryway makeover was finished and is ready to welcome my holiday guests.
It is so great that all of the Fall decor supplies that I got from Lowe's will take me through fall and add both Halloween and Thanksgiving flair easily.
Just a quick switch between the wreaths give me quite a different look without having to change out the whole scene. And those colors! Can we say "Welcome Fall?"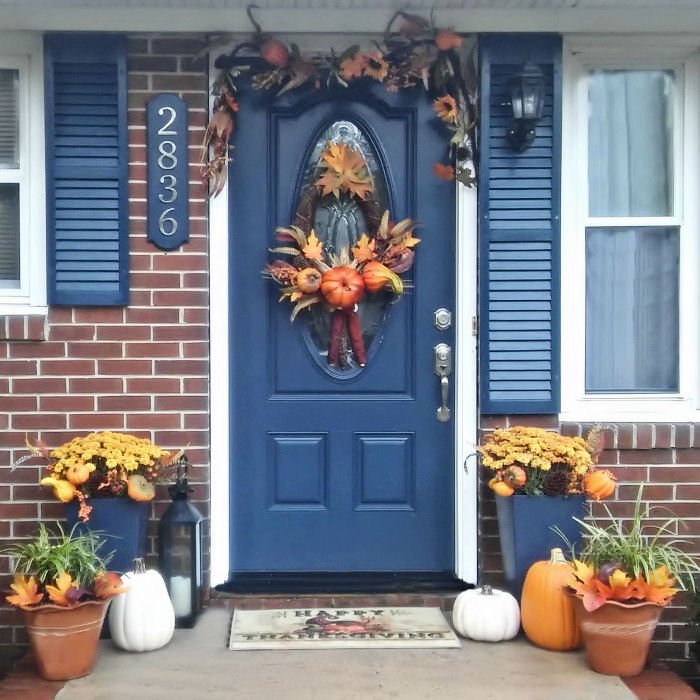 Lowe's makes it super easy to duplicate the look of my fall entryway makeover with the stoppable image above. Just hover over any of the products and click on the tags that appear to see more details of it.
And thank you to Lowe's for providing me these wonderful fall items to help with my fall entryway makeover!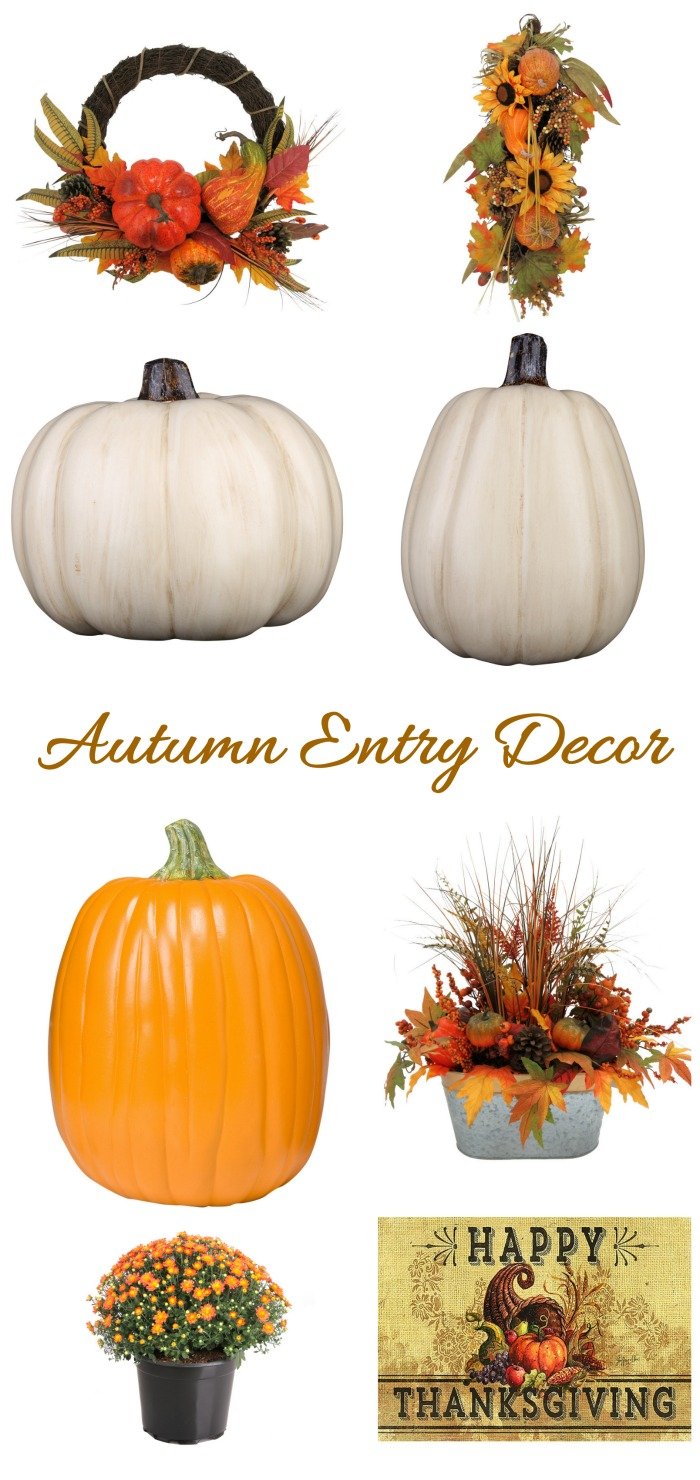 These supplies keep well and can be stored from one year to the next. See what I did with many of them a year later for a new look to my front porch entry makeover.
What do you do to decorate your entry for fall? I would love to hear your ideas in the comments below!
Disclosure of Material Connection: This is a "sponsored post." One of the companies who sponsored it compensated me via a cash payment, gift, or something else of value to write it. Regardless, I only recommend products or services I use personally and believe will be good for my readers. I am disclosing this in accordance with the Federal Trade Commission's 16 CFR, Part 255: "Guides Concerning the Use of Endorsements and Testimonials in Advertising."
Share on Social Media